About Rio Native
We at Rio Native, would like to invite you to the most memorable and breathtaking Brazilian and Rio de Janeiro tour experience.
Located in Rio de Janeiro, we offer our clients the most amazing city tour, making it unique for individuals or groups coming from all over the world. Built on years of experience, we have achieved our goal of becoming one of the best services in the travel industry nationwide. From our office in Rio de Janeiro we provide tours all over Brazil going through all major destinations.
We have a professional team of tour guides with many years of experience. All our guides show love for Rio de Janeiro and their country, which reflects in the quality of service. We work with many international partners extending our services outside Brazil to countries such as Peru and Argentina.
Rio Native is a company you can trust for an enjoyable holiday and a truly remarkable experience. Don't dream, come and experience Brazil and Rio de Janeiro for yourself!
Click here to see our Tours of Brazil »

Come and experience Brazil and Rio de Janeiro with Rio Native!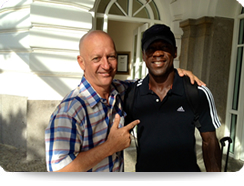 Rio Native with Clarence Seedorf
One of the most famous soccer players of the world, Clarence Seedorf (Ajax, Real Madrid, Milan, Botafogo, Netherlands Squad...), at Rio de Janeiro with Eugenio.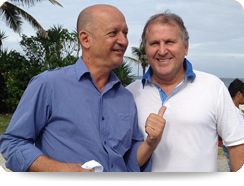 Zico, the no.10 legend
Rio Native with Zico (Arthur Antunes Coimbra), the legend of brazilian soccer, second greatest number 10 after Pelé who played for the Brazilian squad and Flamengo.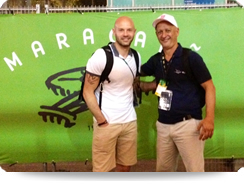 Maracana-Brazil vs England
Last year, the Maracana Stadium was reopened with a friendly between England and Brazil Squads.Rio Native worked for the England squad in this match.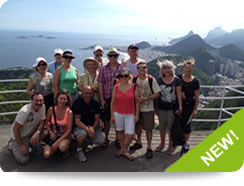 European visitors
Rio Native welcomes visitors from all over the world. Here you will find pictures of many european visitors that already came to enjoy a brazilian tour with us.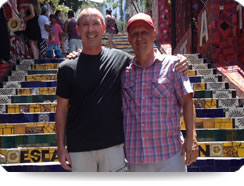 USA visitors
Rio Native is the best choice to enjoy Rio de Janeiro and Brazil and welcomes american tourists throughout the year. Don´t dream, do like them and come to expericence Brazil with us.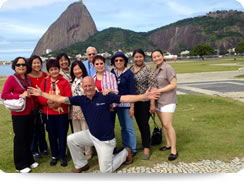 ASIA Visitors
We are ready to guide you in an unforgettable trip.
For Custom made itineraries to Brazil please email us at contact@rionative.com